Please welcome Bryan Cohen to my blog for the Ted Saves the World Blog Tour! Keep reading for a guest post from Bryan, a description of the book, and to find out how you can win a $25 Amazon gift card!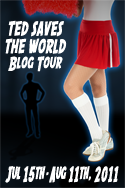 A New Type of Hero
In the earliest incarnations of superheroes, the idea of the secret identity was firmly established. Superman had "the glasses" and Clark Kent, Batman had the bat suit and Bruce Wayne, and Spiderman had those blue and red pajamas and Peter Parker. Later heroes like Buffy from "Buffy the Vampire Slayer" didn't have a secret identity but still kept the fact that she was "the Slayer" secret from as many people as she could. Other heroes like Kick-Ass from the recent comic book and movie, kept a secret identity but became worldwide sensations through the advent of social media.
When I created
Ted Saves the World
, I wanted to see what would happen if a mask-less, secret-less hero became the new savior of the free world. In the book, high-school sophomore Ted gains supernatural powers from another dimension by accident by being in the wrong place at the wrong time. Before he even knows what is going on, his name, face and powers are broadcast on every major news network.
How can Ted stop the bad guys when the paparazzi are hot on his tail and his weaknesses are boldly displayed on a fan page? Will Ted be able to concentrate on high school calculus when he's called on to stop the world from collapsing on itself? How can Ted protect those closest to him when everybody literally knows where he lives? These are some of the questions I'm having a blast answering as I work on book #2 in the series.
In this first taste of the series, we see how Ted's classmates, teachers, friends and relatives react with a little bit of the outside world sprinkled in. As the series goes on, I can't wait to delve into the opinion of the town, the state and the world in more detail.
Description of
Ted Saves the World
(Available for just $0.99):
A possessed cheerleader. A cursed gang of criminals. Mysterious telekinetic powers. An angry ex-girlfriend in gym class? One second, sophomore in high school Ted endures his first breakup in his favorite place in town. The next, a mysterious blue light turns him into a worldwide superhero sensation for taking down a posse of grisly murderers. As his views on YouTube increase and his friend Dhiraj tries to capitalize on the marketing potential, his dangers increase as well when a presumed-dead cheerleader begins taking a personal interest. Can Ted survive his first week as a superhero in the public eye? This novella is the first taste in a series of full-length novels about the adventures of Ted Finley and Erica LaPlante. The book is also available on
Barnes & Noble
and
Smashwords
for $0.99.
Giveaway:
Bryan Cohen is giving away four $25 Amazon gift cards, one for each week of his month long blog tour. To enter, simply comment with your e-mail address (feel free to substitute @ with (at) or other tricks to stop spammers from getting it). Bryan will draw the four names at the end of the tour, picking one entrant at random from each week's set of blog posts. Entries will be counted through Monday, August 15th, 2011. Enter on as many sites as you want, follow the tour at
Build Creative Writing Ideas
. If
Ted
reaches the Top 100 on Amazon at any point during the tour, a fifth $25 card will be added to the giveaway.
Biography:
Bryan Cohen is a writer, actor and comedian from Dresher, Pennsylvania. He graduated from the University of North Carolina at Chapel Hill in 2005 with degrees in English and Dramatic Art and a minor in Creative Writing. He has written seven books including
1,000 Creative Writing Prompts: Ideas for Blogs, Scripts, Stories and More
. Contact Bryan through
his Ted Saves the World blog
,
his Build Creative Writing Ideas site
or
Twitter
.